Dates for the Diary
On the 1st May 2024 the NotMyShame global movement will mark the power of authentic voices from around the world, turning the tables on the
silence and shame of Child Sexual Abuse.
NotMyShame hashtag was created to support survivors of CSA, and to raise awareness of the heinous crime and the silence of the shame attached to victims. To get involved you just need to use the hashtag #NotMyShame and also tag @notmyshameuk (all our social media platforms use this handle). If you wanted to purchase the products to enjoy, then we would be most grateful for your support. Every donation we receive goes along way towards supporting the work that charity Project 90/10 are doing to raise awareness, educate and protect children, all to eradicate child sexual abuse.
HUGE thank you to actor Charlie Lawson, UK and to actress Nadia Jamil, Pakistan for getting behind the movement and to stand with survivors of CSA, across the world. Nadia spoke about the campaign at the United Nations, 2023
From our Founder, Emma Jane Taylor. "I spent some
time choosing suitable collaborations to work with on our clothing range and products. I've read many articles about our chosen products that share good insight into their corporate responsibility and of their ethos. Some of the products are 100% airlume cotton, making them lighter (thinner), but all made with great care, and of course more importantly 'are sharing strong messages'.
Feedback is important, so do share your constructive notes, it helps us to continue the strength of this message/ campaign".
Working together, to protect and support the world
*IMPORTANT NOTE*
All donations are received with immense gratitude. Donations (after costs) are shared to our chosen charity, Project 90/10 to support everything they are doing to to reduce Child Sexual Abuse.
OFFICIAL RANGE
The #notmyshame slogan is a registered trademark and you would need permission to use this hashtag for any merchandise/online retail. Our products are currently only produced on white backgrounds....we have no affiliation to 'other' sites selling our products, these appear to be scams, they are NOT charitable.
We do NOT support these other online outlets.
Where are we in the world? We are being seen in Australia, New Zealand, Dubai, America, Kenya, Pakistan, Germany, South Africa, Canada, United Kingdom.....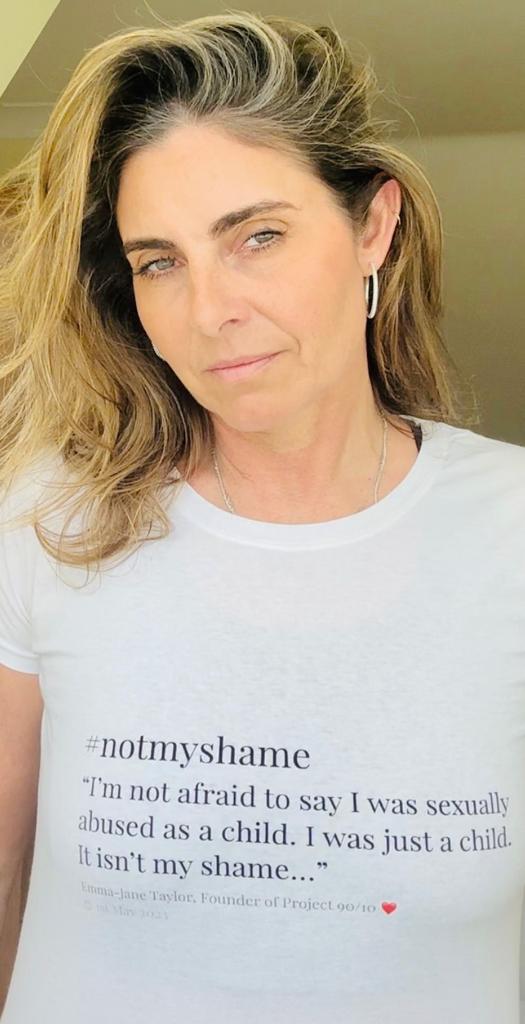 From Emma-Jane
I am proud to share my new range of merchandise, to empower survivors and turn up the volume up on a very difficult conversation, that for the best part of my life has been kept in the dark. If you feel comfortable then I would love for you to use the hashtag #NotMyShame, and for those that want to - I would love for you to join me in wearing this range. I understand that not everyone will feel able to, and that is fine also, there is no right or wrong and we are all at different stages of our journey with these conversations. I know it has taken me time to get to this point in my life.
I have extended the #notmyshame range to include the #nottheirshame range, for any supporters who feel strongly about raising awareness too.
I had no idea when I started this campaign that it would lead to global recognition so quickly - I had really only shared the slogan to remind myself of this truth. Whatever happens next, I am proud to be here and have made some amazing friends.
Thanks for stopping by, keep truckin'!
Hugs
Emma-Jane
More on EJs Campaigning
COMPANY, a place to talk
NotMyShame coffee mornings (and evenings) will be rolling out across the world for survivors of child sexual abuse very soon, WATCH THIS SPACE. This initiative has been led by NMS member/advocate Sharon Gray. COMPANY, a place to talk, might be coming your way soon. So many brave souls have connected through the hashtag across the world, all wanting to create such wonderful spaces, events and also artwork to support others.
#globalrockdropday
NEWS FLASH
We are excited to share this rock painting initiative organised by one of our NotMyShame members, Krys in Boston

The NMS Rock drop will be happening across the globe on the 1st Dec 2023, to continue raising the roof on the NOTMYSHAME movement to shatter the 'shame', that survivors of child sexual abuse hold on to.

Safe space FB group
Thank you's
We share our grateful thanks to everyone supporting our campaign to help us reach the world, and in doing so, change conversations. Every survivor, ally, coffee shop, rock and everyone else not mentioned is MUCH appreciated, thank you.